The world has certainly come a long way from the time when funny cat clips seemed to overwhelm the internet. With the help of director Sarah Jayne and her new documentary film, Cats of Malta, the web's oldest tradition of feline viral videos has now evolved into a much more serious and heartfelt venture. Compiled just beneath the bright sunny skies and over the flowing canals of this beautiful archipelago, all the numerous interviewees in this hour-long feature have a fantastic story to share in regard to their unique relation with the cat community.
With only a few momentary misfires, Cats of Malta is very much an entertaining show and tell spectacle. In between the calls for government-sponsored feeding programs, the need for financial help toward the already established non-governmental organizations, and raising positive awareness against an underlying prejudice that associates stray cats with vermin, a widespread consensus in this documentary seems to be that cats are healers of the mind, body, and spirit.
Locals Save a Cat in Need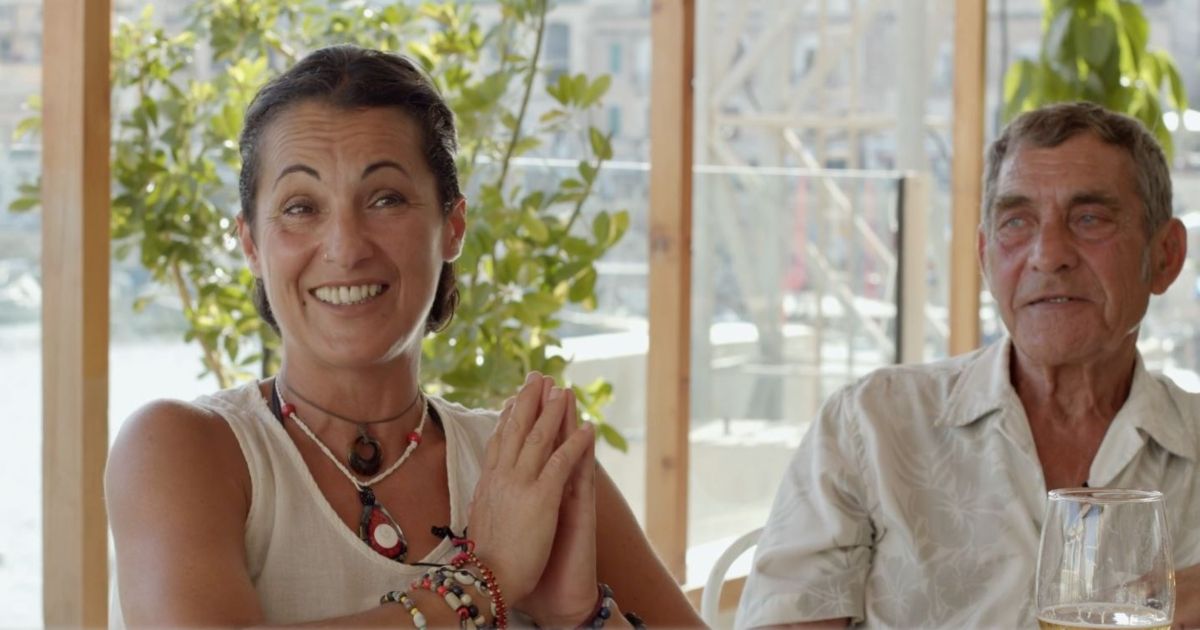 First diving into the seaside town of St. Julian's, Jayne sits down with locals Michelle DeGuara and Salvu Gilson. Well acquainted with three cats in the immediate area named Nanu, Silver, and Ginger, Cats of Malta doesn't waste a moment showing the unbridled connection between the two species. With Gilson providing backup commentary, DeGuara recounts a time when she rushed Nanu to the vet (on her own accord) after witnessing the animal being hit by a car. With one of his front legs having to be amputated, he now once again lives a carefree life, eating restaurant scraps and begging from nearby fishermen.
Interestingly enough, the participants in this dual interview seem to have differing narratives at times and as a result, there is a very subtle but underlying tension. In a documentary that preemptively stands as an emotionally rewarding experience, this beginning segment balances an enthusiastic introduction with moments of awkwardness that make you question the authenticity of the on-screen personas.
The director then turns her attention to Roza Salinos and her curbside Cat Village. What viewers will be quick to notice (and what becomes a recurring theme) is how familial these street cats have become to the people who serve them. As though they are her own human relatives, Salinos lists off names of the various cats around her with a confident bravado, such as Chuggin, Kashkin, or Felix.
Working in university for over 40 years, she learned that people seek the nuance and fluidity of cats when bad times arrive. As opposed to the first interview, her story seeks a higher emotional climax when viewers learn that the Hilton hotel (which resides next door) has plans to expand and take her one-of-a-kind community away. Unfortunately, the corporation is successful, and this traumatic event leaves Ms. Salinos with a soulless shelter for her feline friends down the block which she coldly admits won't be the same.
Artistic Expression for the Animals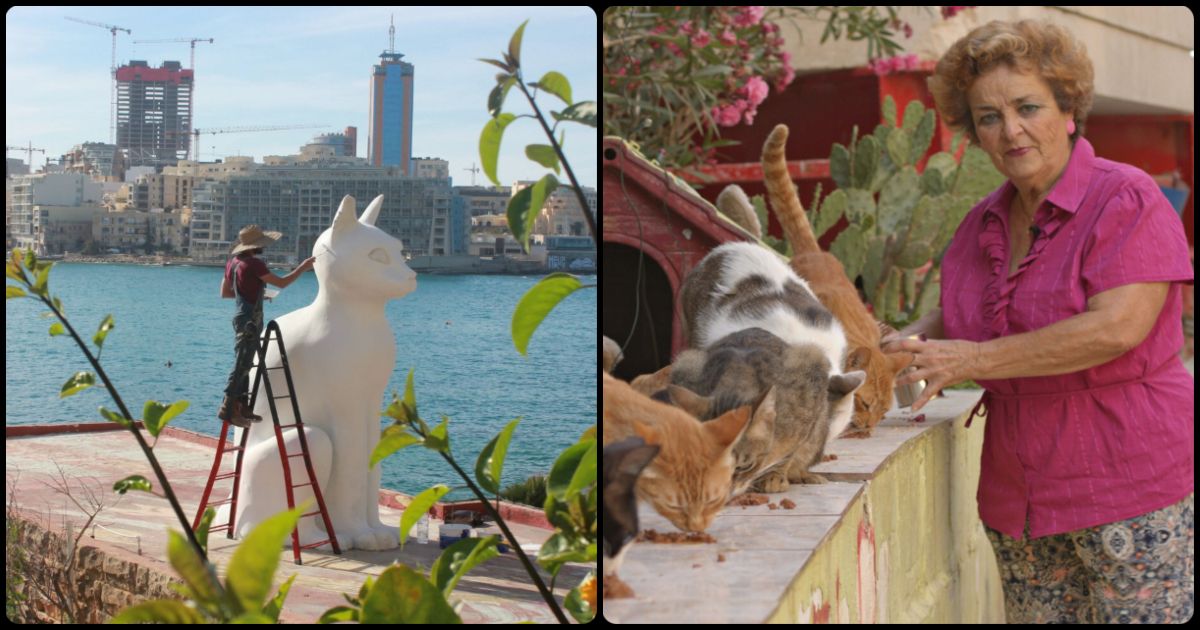 Looking at the animal from a creative lens, audiences are introduced to Matthew Pandolfino, an artist that was hired by the Malta Tourism Authority (or MTA). While this sequence isn't explicitly tethered to the documentary's premise like the previous iterations, it's still interesting from a storytelling angle. Seeing Pandolfino meticulously spray paint his larger than life cat statues really brings home the country's ongoing alliance with its furry co-inhabitants.
With these ceramic landmarks placed all around Malta, Jayne then decides to cleverly interject the tail-end of Pandolfino's story with a small interlude about Bob, a big ginger cat with a regal stance and demanding personality. Even though this small biographical presentation is an abrupt change, the transition works as the sculptor's time was feeling stretched out with numerous B-roll sequences and slow drone shots. To even out the time, clips could have been made with pedestrians who had stories to tell regarding their encounters with Bob. Related: Biopics Whose Subjects Deserved Better Representation
Regarding herself as an actor, director, teacher, cook, and tin opener, Polly March is another intimate caregiver to the cats who wander the streets of Malta. Going as far as to shelter some herself (with one being called Loopy Louie), this snapshot is a very vulnerable look into a strong and compassionate woman. While carefully pouring water into a drinking bowl, March becomes overwhelmed just by the thought of a sick stray eventually succumbing to her ailment.
In her conversation with Jayne, March also emphasizes the importance for feeders to have guidelines and praises sanctuaries whose sole goal is to help these loving animals. Compassionate but wittingly charming at the same time, Ms. March definitely brings a much-needed balance of two worlds to Cats of Malta. While her own clan of cats, like Erica and Tigger, are delightful to study, March joyously stands out when discussing her own origin story which began on Christmas Day 2006. She has never stopped feeding cats since.
From Everyday Feeders to NGO's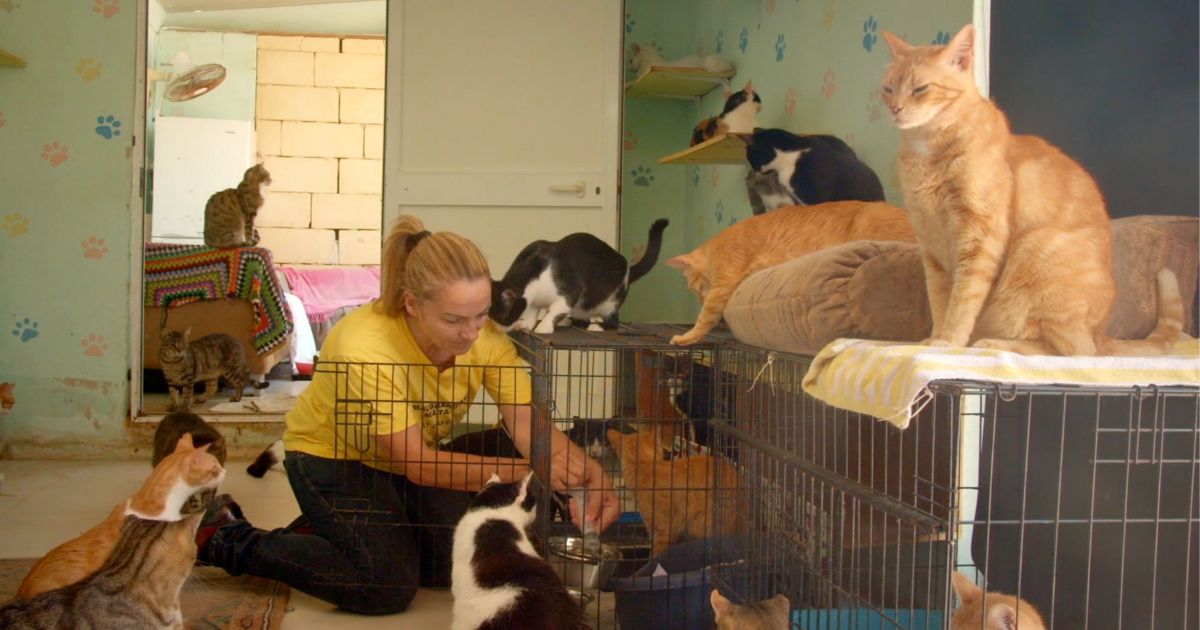 The last two spots of the doc are first given to 11-year-old Isaac Muscal and his friend Nikki Micallef, then to Carolina Borg and Karmen Coleiro of the Cat Cafe. Only 11 years old, Muscal uses pocket money given to him by his mom and grandma to feed, trap, and neuter the cats around Malta. All the while, he has a smile on his face that cannot be denied. He speaks about going fishing and feeding his catches to the strays, and how it's easier to trap in August because that's when the animals are hungrier, thirstier and more in nature due to mating. He agrees that cats connect the island and everybody within.
Related: The Best Cat Movies of All Time
Along with Micallef, the two come upon a new kitten. Even though this is an unfiltered moment of the documentary, Micallef notes that the young kitty has to be caught because their eyes are still closed and that is a sign of cat flu. Along with the mystical properties that are sprinkled throughout this piece, the educational insights (which are unfortunately few and far between) are even more treasured and a welcome addition.
As an exit piece, the Cat Cafe leaves viewers with a refreshing analogy on Malta's cat population. Earlier, Jayne's voiceover narration says that while there are 450,000 people in the country, there are 100,000 cats as well. To see 200 meowing felines scouring about in a small sanctuary puts into perspective what the rest of Malta must be like and why those featured in this documentary are compelled to do what they do.
Borg and Coleiro and the rest of the shelter's staff also convey the importance of treating cats in a just manner. They provide insight into what adoption is like and with a touch of realism, talk about cases where they had to re-rescue the cats because they were used to catch mice or protect store garages from critters. They relay that studies have been done on cat therapy and retell an event where the prime minister's sick mother was spiritually energized again with the help of cats from The Cat Cafe.
Aside from a misstep in the opening and the mishandling of the king-like Bob, Jayne's documentary about human's altruistic bond to animals quickly evolves into a very fun foray about an isolated country who have found spiritual satisfaction when they let themselves become enamored with four legged felines.
From Nexus Production Group, Cats of Malta premieres on digital starting from October 3rd. You can watch the trailer below.