Summary
Wonka is projected to make a disappointing $20 million to $23 million during its opening weekend.
Despite the potential competition, Wonka has the advantage of opening during the Christmas holiday, which could attract families to the theaters.
While Aquaman and the Lost Kingdom may draw a larger audience, the fact that Wonka is rated PG could appeal to families looking for a more kid-friendly option at the movies.
Wonka won't hit theaters until December, but the Timothée Chalamet-led musical adventure is already being projected to make $20 million to $23 million over its opening weekend, according to The Quorum (per Deadline). Typically, a film doesn't end up being tracked six weeks ahead of time, but The Quorum has been paying special attention to Wonka since before Barbie and Oppenheimer even dropped in theaters. In a blog posted on July 12, The Quorum evaluated Wonka for the year's four-quadrant (Q4):
"Maybe this one [Wonka] secures a few technical or music nominations. But, more than anything, this one looks like a four-quadrant Christmas crowd pleaser. Interest for WONKA already sits at 55%. That's the 3rd highest among all films being tracked by The Quorum. And that score doesn't even take into account the new trailer. While box office prospects look strong for both titles, neither print campaign wowed our panel, The poster for WONKA was given a B- while NAPOLEON received a C grade."
Wonka reportedly amassed a hefty production budget of approximately $125 million. So, if the film opens domestically with $20 million to $23 million, it certainly won't reflect the first weekend numbers Warner Bros. is obviously hoping for. But Wonka definitely has an Everlasting Gobstopper of a holiday on its side that could help bolster ticket sales, particularly with families.
Related: Wonka: Breaking Down Every Easter Egg From the Trailer
Can Wonka Thrive Over Christmas?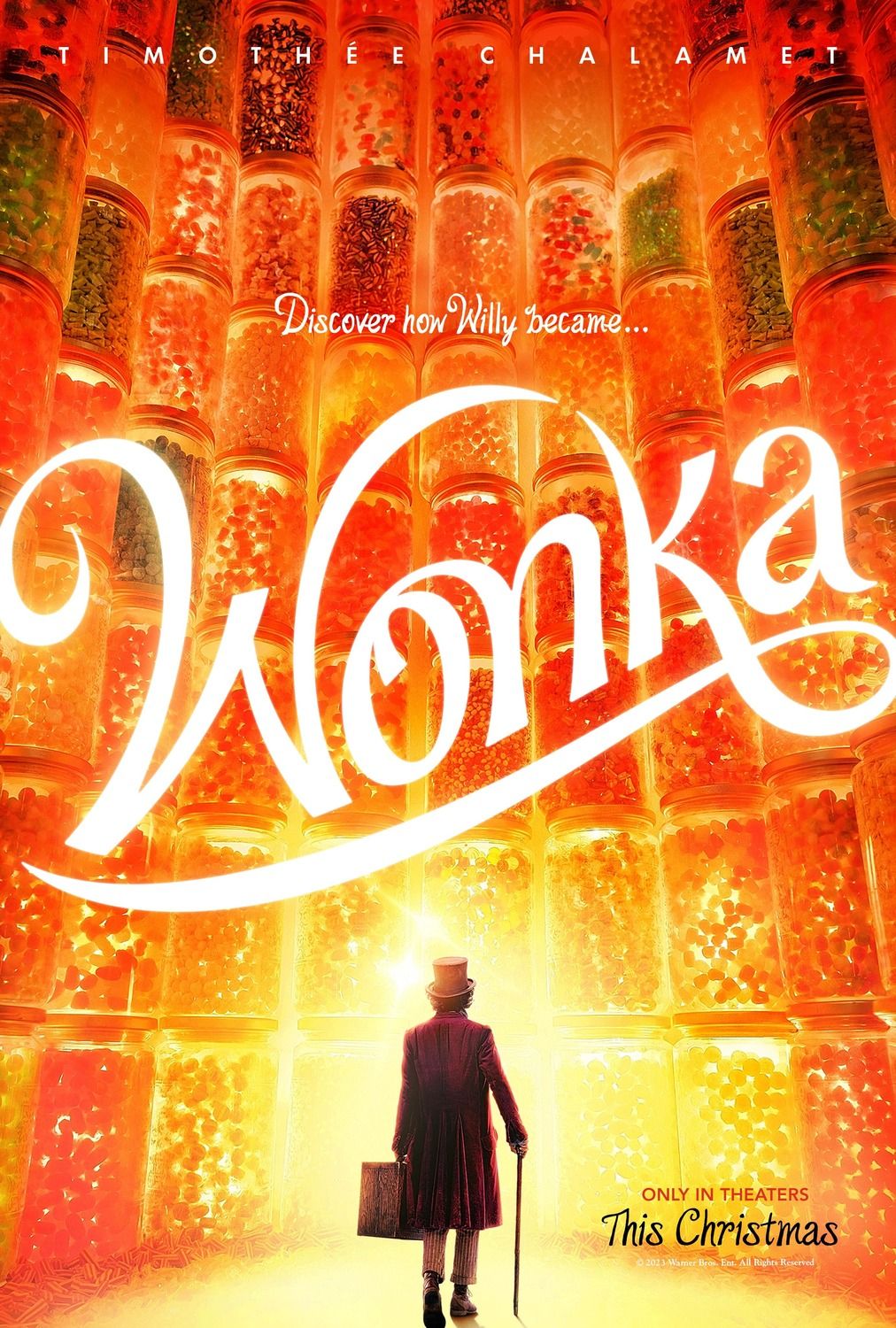 Wonka
Release Date

December 15, 2023

Director

Paul King

Cast

Timothee Chalamet, Olivia Colman, Hugh Grant, Keegan-Michael Key, Sally Hawkins, Rowan Atkinson

Genres

Fantasy, Adventure, children, Family
Wonka drops in theaters just in time for the Christmas holiday, and it actually opens on the last night of Hanukkah (Friday, December 15). So, while the film is tracking to only make around $23 million during its three-day debut domestically, Timothée Chalamet's big-screen version of the famous chocolate maker could benefit from his movie opening in time for X-mas.
The Motion Picture Association of America (MPAA) has rated Wonka PG for "some violence, mild language and thematic elements." So, the musical adventure should attract plenty of families to cinemas over the holidays. The one glaring issue, and source of major competition, for Wonka will be the film that opens the week after it: director James Wan's Aquaman and the Lost Kingdom.
The problem for Wonka is that films with huge fandoms like Aquaman and the Lost Kingdom have done very well, particularly on Christmas Day, over recent years. For example, Avatar: The Way of Water ($29.2 million), Spider-Man: No Way Home ($31.6 million) and Star Wars: Episode IX — The Rise of Skywalker ($32.2 million) all made more money on December 25th (per Box Office Mojo) alone than Wonka is forecast to make during its entire opening weekend.
Those numbers show that, at least on Christmas Day, Wonka may have trouble attracting some of that valuable holiday money its way because of Aquaman and the Lost Kingdom. In fact, the original Aquaman posted an X-mas day total of $22 million back in 2018.
Fortunately, The Lost Kingdom is rated PG-13, so those families wanting a bit more of a kid-friendly experience in cinemas may turn to Willy Wonka rather than the King of Atlantis. Wonka opens in theaters on Friday, December 15, and fans can check out the latest trailer below:


https://movieweb.com/wonka-disappointing-20-million-opening-timothe-chalamet-theaters-december/